Best Practice Tips for Successful Mediation
From how to prepare for mediation to handling confrontation in sessions, Gale Allison gives advice in tips based on her decades as a mediator, settlement negotiator, and litigator in the courtroom. She also interviews others involved in mediation and its outcomes such as judges, attorneys, and resource people like financial advisors, elder care case managers, CPAs, trust officers, and more. She'll include and credit their perspectives and experiences to add to the wisdom collected here.
Mediation Tips for Business, Estate & Trust Disputes Nationwide
On this page you'll find Ms. Allison's best practice tips for attorneys and their clients who mediate.
Are you unsure about trying mediation?
Do you fear having to do it alone without your support people?
Have you no interest in face-to-face confrontations with "the other side"?
Maybe you don't believe a mediation agreement can be enforced?
Did you experience a less-than-satisfactory mediation in the past?
Ms. Allison's tips are being collected and posted here to generate a common understanding about how you can be confident, non-confrontational, and successful in your mediation.
Nationwide Tips for Divorce and other Family Disagreements
Work in the IRS gift and estate tax unit and four decades each of experience in proper estate administration, gave our attorneys the skill to efficiently handle the complex problems that Beneficiaries and Fiduciaries commonly encounter.  With our exceptional legal and CPA team, we can address lawsuits regarding:
Inadequate or inaccurate preparation for an estate inventory or accounting

Interpretation of ambiguous provisions in the wide variety of estate planning documents, including no-contest clauses

Mishandling or misapplying the principal of trust assets

Commingling or theft of funds

Removal of fiduciaries for breach of duty

Incompetent estate or trust administration

Errors in taxation or tax planning that result in greater tax liability

Adverse death, gift, generation-skipping and fiduciary income tax issues, and more
Remember:
1. You can subscribe to The Taming of the Feud email on the Home Page of this website, and
2. If you have a great tip for attorneys and their clients involved in mediation, I'd love to interview you. Please email to schedule with me. You can read the collection here in one convenient spot as she builds it.
Another option is to subscribe to the Taming of the Feud email that comes, just as conveniently, straight to your inbox.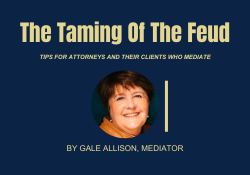 One reason mediations fail is lack of preparation. There's a vast advantage to the mediation process when all of the participants — mediator, attorneys, resource people, and clients — are fully prepared for the mediation day. Mediators are trained to call all the professionals well before the mediation date to discuss expectations, process, and preparation….